Deus ex Machina
Deus ex Machina
By Perry Slaughter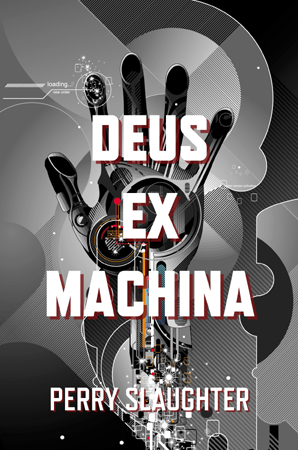 Release date: 16 December 2014
With the computer called ARTHUR, Cliff Peabody has made a major breakthrough in artificial intelligence. It should be the most triumphant event of his professional career—but why, then, is the federal government invading his laboratories? Why is half the country suffering an inexplicable power outage? And, most disturbing of all, why is reality itself going haywire in the vicinity of Cliff's office?
To answer these questions, Cliff will need to sacrifice everything—and everybody—that has ever been precious to him. And even then, there's no guarantee that he'll like what he learns. Especially when it points to the overthrow of the Creator of the universe itself...
First published in samizdat form in 1985, this rollicking, inventive, and blasphemous sci-fi adventure heralded the emergence of Perry Slaughter as a force to be reckoned with in American letters. Nearly three decades later, Deus ex Machina still retains its power to shock, astound, and entertain.