Titles by Perry Slaughter
America as we know it is no more.
Forty years ago, a military experiment in nanotechnology ran amok, wiping out most of North America and rendering it an uninhabitable plain of silvery goo. To set one foot in that silent tide is to suffer immediate disassembly into one's constituent molecules. But against all odds, the town of Wellington, Nevada, has held off the threat, thanks mostly to the presence of Carl McFarland, one of the scientists responsible for the disaster. Now an old man, Carl is largely ignored by the townspeople of Wellington, with the exception of his avid student Orrin Pritchard.
But when a wagon train appears on the horizon, somehow crossing the silver tide without harm, all that will change. What miracles do these strangers bring? What news from the world beyond? And how is it that their charismatic leader, Pastor Smith, can raise the dead with the touch of his hand? Is Carl once again the only person standing between Wellington and a great tide of evil—or is he himself now the town's greatest threat? (more)
For a decade and a half, old Bert Dram has crisscrossed the world in his capacity as propmaster for Jacques Paine's famous traveling theater troupe. He has seen sights to gladden the heart and to chill the blood, entertained paupers and princes, encountered magic both bright and dark. But never before has he entered a realm as forbidding as Montravel, a land blasted by evil and brooded over by an improbably vibrant castle.
Pascal Demain is the new young court magician at Montravel Keep, charged by King Philip with maintaining the deep energies that support the castle at the expense of the realm. Troubled, he has just begun to question his role in the land's depletion when the troupe of actors appears on the horizon.
In the hours to come, Bert and Pascal both will find answers to the question of Jacques Paine's pilgrimage to Montravel—answers they'll wish had remained hidden... (more)
Perry Slaughter's work has been called "dismayingly sexist" and "what you might get if Philip K. Dick and Chuck Palahniuk raised a special-needs baby." His characters, grappling as they do with issues of manhood and violence, are not what one would generally regard as romantics, and yet here, in a run of remarkable stories penned in the late '80s, he gives us romance as only he could—or would.
In settings ranging from Earth to distant planets to parallel worlds, with characters running the gamut from human to cyborg to alien, Perry Slaughter shows us love (or its analogues) in all its dirty, wretched, heartfelt squalor. With his characteristic energy and peculiar style, he shakes us by the lapels and shouts that romance is a thing of bloody science fiction. (more)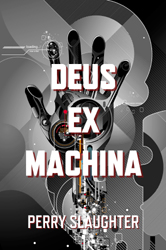 With the computer called ARTHUR, Cliff Peabody has made a major breakthrough in artificial intelligence. It should be the most triumphant event of his professional career—but why, then, is the federal government invading his laboratories? Why is half the country suffering an inexplicable power outage? And, most disturbing of all, why is reality itself going haywire in the vicinity of Cliff's office?
To answer these questions, Cliff will need to sacrifice everything—and everybody—that has ever been precious to him. And even then, there's no guarantee that he'll like what he learns. Especially when it points to the overthrow of the Creator of the universe itself...
First published in samizdat form in 1985, this rollicking, inventive, and blasphemous sci-fi adventure heralded the emergence of Perry Slaughter as a force to be reckoned with in American letters. Nearly three decades later, Deus ex Machina still retains its power to shock, astound, and entertain. (more)
Though a major chess and computer nerd, Sam Pauling has nonetheless managed to score a date with Kate Fitzhugh, the most beautiful girl at school. But the budding romance is barely off the ground before Sam finds himself caught up against his will with the local party crowd and their decadent entertainment of choice—a ouija board with a particularly nasty sense of humor. When a moment of temptation leaves the occult device in his possession, Sam learns to his horror that every slope is slippery and all morality relative, and that even a newly popular "Chairman of the Board" has no right to expect a happy ending...
Decried as "nihilistic pornography" when it first appeared over a quarter-century ago, this stylish and long-unavailable classic of '80s cult horror has at last been rescued from obscurity to sow its corruption amongst a new generation of readers. (more)